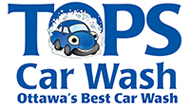 Enjoy the convenience of a Tops Gift Card.
Purchase a Tops Gift Card with a value of $100 or more this holiday season and receive an additional 10% in credits on us!
ABOUT US
Tops is a state of the art, modern automated Full Service Car Wash. We use the latest in Automatic Vehicle Washing Technology to clean and dry your vehicle quickly, efficiently and safely. Our process will leave your vehicle clean, shiny and spot free dry every time!

UNLIMITED MONTHLY PLANS
WITH FASTPASS
To become a member sign up on location and you will receive a membership card that you simply swipe with each visit.
JOIN TODAY!

CAR WASH SERVICES
We keep up with the ever-changing technology to effectively and safely clean your vehicle.
WASH OPTIONS

EXPRESS DETAIL SERVICES
Express Detail Services can be done while you wait, without an appointment!
LEARN MORE

INTERIOR DETAIL SERVICES
Our detailed deep clean services refresh your vehicle's interior.
LEARN MORE
Featured Articles
Happy Customer
"We've been coming to Tops for years now – we used to wash our car in the driveway but we used a lot of water and could never get the same shine we were after. Tops keeps our car clean and shining – and we know that we're helping the environment too by using less water!"
Happy Customer
"As a sales person I have to make sure that my car looks as professional as I do – I come to Tops each week and leave with the car exactly the way I want it."
Happy Customer
"I'm a busy Mom with 3 kids – in and out of our minivan all day long! It's important for me to make sure it stays clean – that's why I go to Tops every few weeks. I'm in and out in about ten minutes and the van always looks great!"

There is a quick and convenient, dedicated line for
Unlimited Wash Club Members
. The FastPass will get you through the wash much faster compared to non members!
Get FastPass
We are conveniently located near Westboro
Already Visited Us?

Take our two minute survey to let us know how we can serve you better.
CONTACT US

979 Richmond Road
Ottawa, ON
K2B 6R1

613 728 4232
SERVICE HOURS
Monday – Friday 8:00 am – 5:00 pm

Saturday 8:00 am – 5:00 pm

Sunday – CLOSED
Sign up for exclusive deals and updates